Mr Fegan said he approached Aphria because they were the leading producers in their space, and said he was "grateful" they had chosen to work with him.
Quintessential Capital Management and Hindenburg Research's assault on one of Canada's largest medicinal marijuana producers is the latest public analysis by aggressive short sellers that has prompted a share price slide.
According to their report, the company has spent $C700 million on mergers and acquisitions, including a Jamaican company for which it paid $C145 million.
The headquarters of the Kingston-based company was found to be deserted and dilapidated when its analyst visited Jamaica, and some people listed as directors said they did not know about the company at all.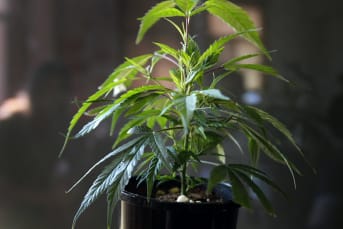 The short sellers described the company as a "black hole for investors' money". Shares in Aphria, which had a market capitalisation of $C2.6 billion before the report was released, have subsequently fallen more than 25 per cent.
Aphria has said the allegations are "a malicious and self-serving attempt" to manipulate its share price.
One of Althea Group's directors is Gregg Battersby, who is vice president of commercial strategy.
Aphria owns 25 per cent of Althea, though the shares are escrowed until 24 months after its September 9 listing date.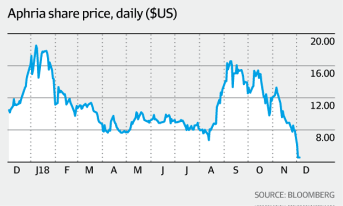 Aphria is also the company's main supplier of medicinal cannabis products until it begins to cultivate and grow its own medicinal cannabis. Althea Group distributes products supplied by Aphria under the product names "Capilano", "Champlain Indica", "Jasper" and "Rideau" and Aphria has provided Althea with a 10-year exclusive licence to use the trademarks.
"The Aphria product supply agreement is Althea Group's key supply contract. Althea Group's current ability to generate revenue is heavily reliant on its strategic arrangements with Aphria," the company said in its prospectus.
Another company with links to Australia was the subject of a short-selling report at the conference.
Viceroy, which has two Melbourne-based analysts, Gabriel Bernade and Aiden Lau, pitched Ebix, a Nasdaq-listed insurance software company, as a short.
Ebix acquired the Telstra eBusiness Services unit in January 2008 in a $50 million deal.
Viceroy claimed in a pitch titled "Goodwill hunting" that the $US1.4 billion company was over-paying for acquisitions through non-existent contingent considerations that were later reversed, lifting profits while questioning its goodwill accounting.​