"We are mindful of potential signs of weakness in the broader economy and we're always adjusting capacity to meet demand in individual markets – but overall revenue and yield indicators remain positive."
The company declared a 12¢ a share fully franked dividend and said it would buy shares back on-market worth up to $305 million.
Qantas Group Domestic reported a 1 per cent rise in earnings before interest and tax to $453 million. In Western Australia, Qantas increased capacity by almost 10 per cent because of demand linked to the resources sector. The company said Jetstar's result was helped by increasing its average load factor to 87.8. Almost two thirds of fares sold domestically and internationally in the past 12 months cost less than $100.
However, pilot training for new fleet and associated promotional opportunities delivered some capacity constraints. Qantas says it doesn't expect this to be a significant issue in the second half.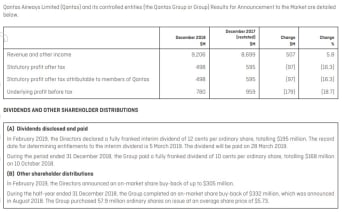 Qantas International's division was the hardest hit by rising fuel costs, which rose $219 million for the half. The division reported a 60 per cent fall in EBIT to $90 million, though revenue rose 7 per cent to $3.7 billion.
Qantas Loyalty reported a 4 per cent rise in profit to $175 million, driven by Frequent Flyer program as well as revenue from new ventures including health insurance and financial services. Credit cards that earn Qantas Points grew 4 per cent compared with a declined of 1 per cent for the market.
The airline said it had entirely hedged its fuel for 2020.
Qantas flagged waste reduction will be its next major focus, comparing its plans to the leadership the airline took on gender equality, marriage equality and indigenous recognition. The airline says it wants to reduce landfill by 75 per cent and remove 100 million single-use plastic items each year by the end of 2021.